Return Policy
Sellers set their own return policies for pieces on 1stDibs. You can find their policy any time on the item details page within the Shipping & Returns section.
Regardless of the seller's policy, EU and UK buyers are entitled to a period of 14 days in which they may return an item, guaranteed.
Initiating a Return
Approved returns must be shipped within 14 days of receiving the return label for standard return shipments. Otherwise the return will be considered void and the sale deemed final with no extension on the return period.
Example item details page: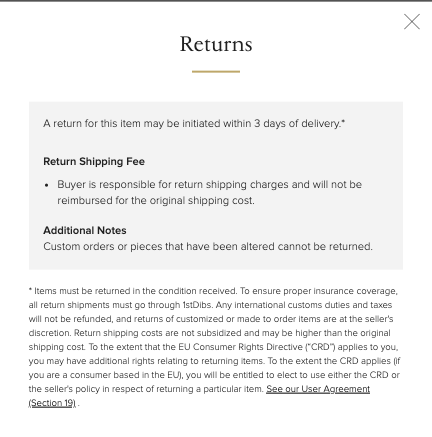 Once you've made your purchase, you will be able to view seller's return policy by going to the account menu and selecting Orders. Click Order Details to view the seller's full terms.

Example Return Policy: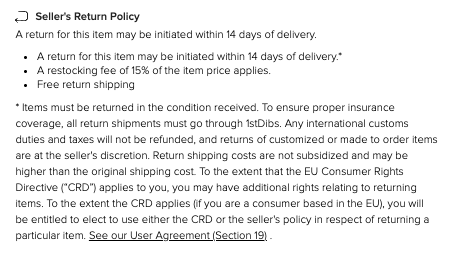 International and Select Domestic Item Returns
1stDibs must oversee the return shipment of all international returns and domestic returns of furniture and fine art. If you've initiated a return within the time frame provided in the seller's return policy, and you've communicated to a 1stDibs Support representative your intent to return, you'll receive a quote for the cost of a fully insured return for your approval. Once approved, you'll be sent a prepaid label and any other necessary documentation for the return.

While we do our best to ensure returns are clearly noted on the label, to help customers avoid extra costs, there may be additional fees and taxes applied to a return that are incumbent upon the customer to pay. Any costs for the return will be deducted from your refund.​

In compliance with the 2011 EU Directive, residents of the EU and UK may return their item within 14 days of delivery, if the order meets the eligibility requirements, regardless of the seller's policy.

If Your Item Arrived Damaged


Note, any item that arrives damaged or not as described may be covered by the 1stDibs Buyer Protection Policy. Once an item is reported damaged on delivery it cannot be treated as a standard return, because we need to determine how the damage has occurred. For all shipments where it is cited as transit damage, we will need to collate the relevant images and documentation because this is a requirement to submit a claim to the carrier. This normally has to be fulfilled within 30 days of the shipped date or the delivery date of the order.

14 Day Return Shipment Window
For approved returns, the following milestones must be met within 14 days:

Parcel Returns
Approved returns must be shipped within 14 days of receiving the return label for standard return shipments, or the return will be considered void. Once the return is considered void, the return shipping label will be removed from your order page.

Freight Returns
If your item will need to be professionally crated and shipped via freight or white glove methods — the return shipping quote must be accepted no later than 14 days from the quote provided or the return will be considered void.
Here is a link to learn more on Initiating a Return.