Arranging Your Own Shipping or Pickup
For most orders, you can arrange for another delivery method or choose to pick up your purchase yourself. Select your preferred shipping option at checkout in the Shipping Method section, where you'll see options, "Pick up in person" and "Arrange shipping yourself." Once your order is processed, the seller will contact you to arrange for a pickup, or go over shipping details and timing.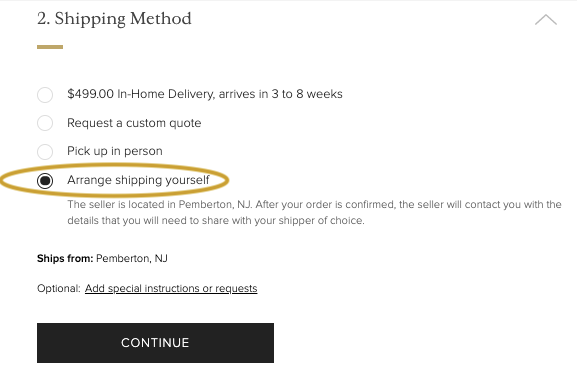 We recommend the item be inspected, either by you or the carrier when picking it up, to ascertain its condition before it leaves the seller's shop. When the item arrives at its destination, inspect it again to make sure it's in the same condition as when it left the store.
If you are using your own carrier, make sure you understand its insurance coverage and policies.
Please note, if you pick up an item yourself, we will collect and pass along applicable sales taxes based on the seller's store location.